FETALtrol™

Control cells to validate the procedures for the detection of Fetomaternal Hemorrhage

Special features

Eliminates the need to acquire cord blood to make home brew controls, saving time precious to the laboratory workforce
Three validated levels which correspond to clinical decision points for anti-D therapy
3 months total shelf life
FDA cleared as a hematologic control for fetal red cell detection
Registered as Medical Device for In Vitro Diagnostic Use (IVD/CE)

Applications

Flow cytometric methods
Kleihauer-Betke tests
EQA programs

Order now!
Introduction
Detection and quantification of fetal red blood cells (RBCs) in maternal blood samples is essential for obstetrical management. Measurement of fetal RBCs is critical as the extent of Fetomaternal Hemorrhage (FMH), the transplacental passage of fetal RBCs into the maternal circulation, has consequences for further treatment of mother and child.
Frequency and size of FMH is directly influenced by complications in abdominal trauma, suspected placental injury or after a caesarean section. Severe FMH may lead to intra-uterine death. In case of antigen incompatibility between mother and child FMH may result in respiratory problems or anaemia, like Haemolytic Disease of the Newborn.
Principle of the FETALtrol™
The laboratory determination of the level of fetal cells in maternal circulation remains an important support in the obstetrical management of women with suspected uterine trauma and in the proper dose administration of Rh immune globulin. Limitations in the sensitivity and precision of the widely used manual Kleihauer-Betke method have prompted can increased utilization of flow cytometric methods for fetal cell detection in maternal blood samples.
The anti-HbF flow cytometric method for detection of fetal cells offers a simple, reliable and more precise alternative to the KB manual technique for the assessment of fetomaternal hemorrhage. The method has additional potential applications for the study of HbF levels or frequency of adult red cells with low levels of HbF (F cells) in individuals with hemoglobinopathies.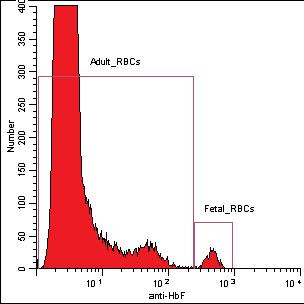 Figure: The above picture shows the results of the high level of FETALtrol™.
FAQ
Question
:What is recommended to use as positive control for HbF if you don't have cord blood available?
Answer: FETALtrol™ (product code FH101 and FH102) can be used as an extern control. This is a quality controlled tri-level stabilized blood control with known HbF positive cells content in adult blood.
Related products
| Item | Description | Regulatory status | Package size | Order |
| --- | --- | --- | --- | --- |
| Fetal Cell Count™ kit | Complete assay for routine diagnosis of Fetomaternal Hemorrhage using anti-HbF and anti-CA | | 25 tests | IQP-363 |
| FMH QuikQuant™ | Rapid assay for Fetomaternal Hemorrhage Quantification | | 100 tests | QQF-100 |
| FMH kit | FITC conjugated anti-RhD reagent for determination of Fetomaternal Hemorrhage | | 100 tests | 9447 |